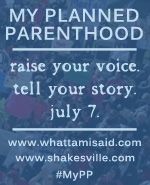 At the beginning of this school year, Planned Parenthood dropped off ten thousand condoms at my school.
Have you ever seen ten thousand condoms? That is a lot of fucking condoms. The entire  room was filled with cardboard boxes from the floor to the ceiling, labelled "sheer" and "flavored– cherry" and "florescent." If you do the math, it only works out as ten condoms per student, but visually, it's amazing.
A lot of times Planned Parenthood gets a reputation as being about women's sexual health. They provide Pap smears and birth control prescriptions; they educate women about STIs and pregnancy; most controversially, they provide abortions. Reproductive health, most people seem to believe, is women's health.
That is not the case.
The sex educators Planned Parenthood sent to my college taught women and men how birth control worked, what enthuiastic consent was and which sex acts would spread STDs– knowledge that, thanks to abstinence-only sex education, many of the students did not have.
The low-cost STD tests Planned Parenthood gave to students allowed women and men to know if they'd been infected and get treatment.
And the ten thousand condoms Planned Parenthood sent my school protected everyone: gay and straight and bisexual, monogamous and poly and casually sleeping around, male and female. Even lesbians could use the condoms as a DIY dental dam according to the handy instructions Planned Parenthood provided. Ten thousand condoms means ten thousand sex acts with less worry about children and STIs; ten thousand condoms means ten thousand chances for people to control their own bodies.
Reproductive health is a masculist issue to the exact degree that it is a feminist issue. All genders should have the ability to control their own sexuality and reproductive health, because all genders have the right to bodily autonomy. The lack of support for reproductive rights, and in particular Planned Parenthood, should not be marginalized as a "women issue"– it's a men issue, and a genderqueer issue, and a people issue.