POEM/PAINTING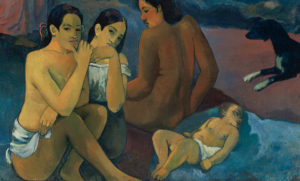 Where do we come from…
Where do I come from
The womb of the mother
Shaped from the past
From the ancestors of my ancestors
From living cells
Incubated in the oceans
Emerging from the waters
Onto the earth
And towards the air
With fire in the belly… ???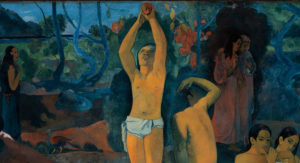 What are we…
Who am I
My gender
My roles
My virtues and shortcomings
My memories
My present.
The future
Dreams
Aspirations
Hopes
A goddess, incarnate
And maybe,
More… ???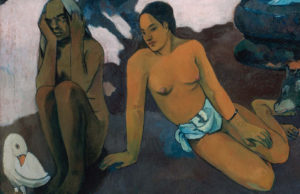 Where are we going
Where am I going
Is it
Towards
Inevitable death
Dark dank empty
As a cosmic void
A black hole
Is it
Towards the door
That death throws wide open
The infinite universes
beyond
Beckoning— ???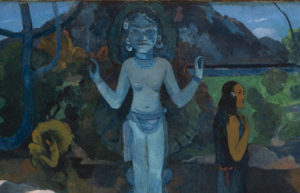 Do not let your life pass by without asking yourself:
Who am I?
Do not let your life pass by without asking yourself
Where am I going?
— from The Path, Silo's message
---
About the painting:
"My dream is intangible, it implies no allegory; as Mallarme said, 'It is a musical poem and needs no libretto.' Consequently the essence of a work, unsubstantial and of a higher order, lies precisely in 'what is not expressed; it is the implicit result of the lines, without color or words; it has no material being.' . . .
"The idol in my picture is not there as a literary explanation, but as a statue; is perhaps less of a statue than the animal figures, and is also less animal, since it is one with nature in the dream I dream before my hut. It rules our primitive souls, the imaginary consolation of our suffering, vague and ignorant as we are about the mystery of our origin and our destiny.
"All this sings with sadness in my soul and my surroundings, while I paint and dream at the same time with no tangible allegory within my reach owing perhaps to the lack of literary education.
"Awakening with my work finished, I say to myself, Where Do We Come From? What Are We? Where Are We Going? A thought which no longer has anything to do with the canvas, expressed in words quite apart on the wall which surrounds it. Not a title, but a signature . . ."
— Paul Gauguin
Today, Where Do We Come From? What Are We? Where Are We Going is considered the most iconic post-impressionism masterpiece, along with the famous Van Gogh night stars painting.
Source: https://www.gauguin.org/
—
This post was previously published on pressenza.com.
***
You Might Also Like These From The Good Men Project
Compliments Men Want to Hear More Often
Relationships Aren't Easy, But They're Worth It
The One Thing Men Want More Than Sex

..

A Man's Kiss Tells You Everything