We woke up a bit too early for my liking, but @sushiqueen would have no sleeping in! Once I downed enough caffeine to hype an entire football team I was ready to hit the action. Our special spot is St. Andrews State Park located in Panama City Beach, FL. The park is owned and operated by the State of Florida and the entrance fee is only $8 for an entire carload.
---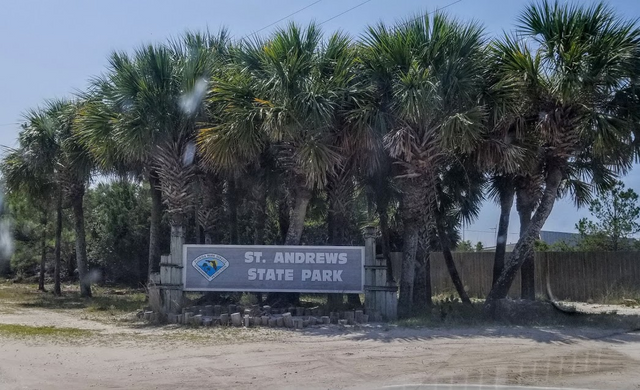 Entrance to one of the greatest state parks in the U.S., St. Andrews State Park!
---
Once we got there, it was obvious that it has become more and more popular over the years and we had about a 20-minute wait to get through the entrance and pay station. We unloaded all of our gear on the sidewalk and I parked the vehicle while my wife and daughter waited with our gear. I had the bright idea to buy a beach wagon to help move all the gear, but it was just about useless in the soft sand even though it had oversized all-terrain tires. After dragging the cart to the shore we geared up and headed into the surf.
---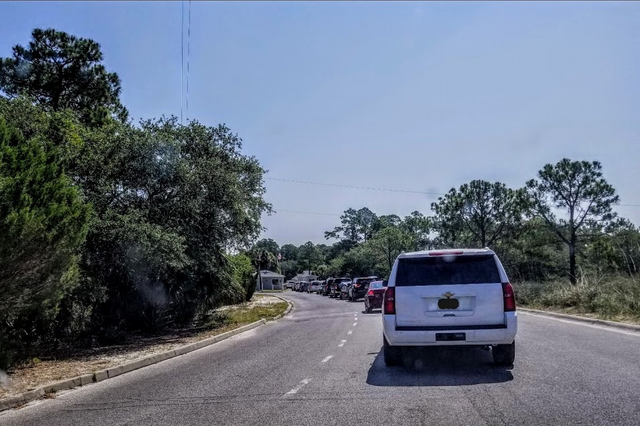 Apparently, everyone knows about "our" spot!
---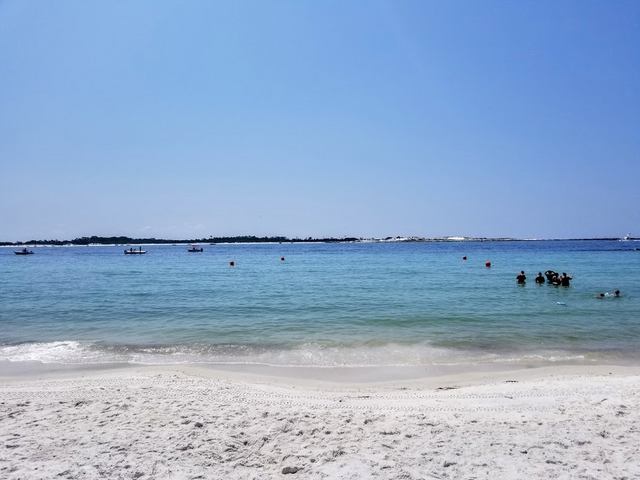 Across the bay is Shell Island, accessible only by boat.
---
This particular spot is a man-made lagoon created by placing jetties in the water. This creates a calm body of water that is still accessible to the open bay and it gives an artificial reef for all types of cool sea life to flourish on. Across the bay is Shell Island and it is only accessible by boat but a ferry runs every 30 minutes or so during the day. I doubt we will make it over there this trip, but maybe next year.
---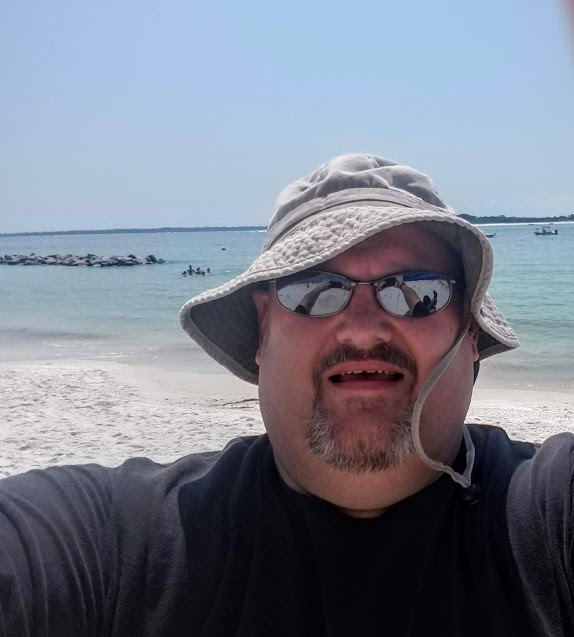 Easy ladies, I'm married!! lol
---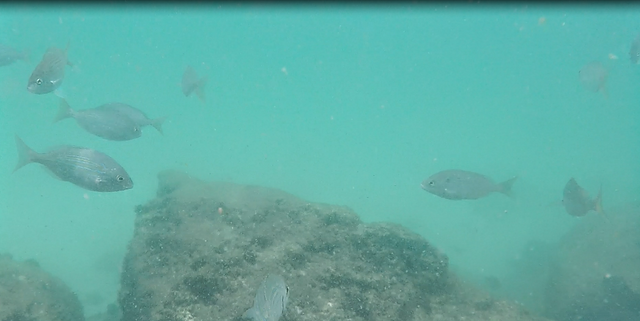 ---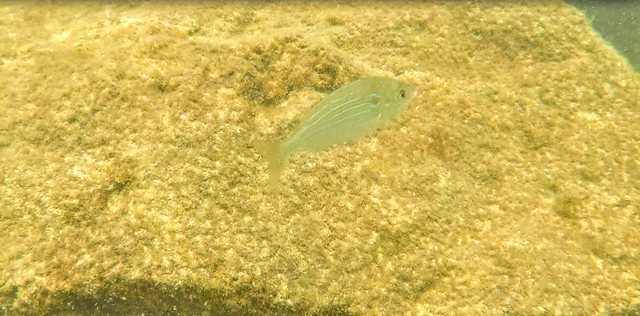 Cool little fella checking me out as I check him out.
---
These pictures were pulled from video, so they are not the greatest, but I plan to edit the videos once we get back home next week. The snorkeling is always phenomenal at this location and it has areas available for all skill levels. We discovered that the state had placed a new set of jetties in a more shallow area for beginners and children to enjoy. Since it was new, we hit this spot first. It was a nice set of jetties and we saw an abundance of small fish. We also headed over to the original jetties which, depending on the tide, lay in about 15-25 feet of water and larger marine life can be found here. We like to shoot through the jetties to the ocean side of the rocks which drops down to about 40 feet. We have seen just about everything you can imagine at this park including fish, sharks, rays, and an octopus! Today the highlight was some bluefish and a pretty big Sheepshead fish.
---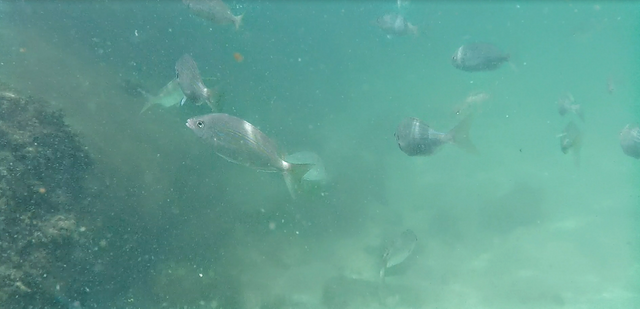 ---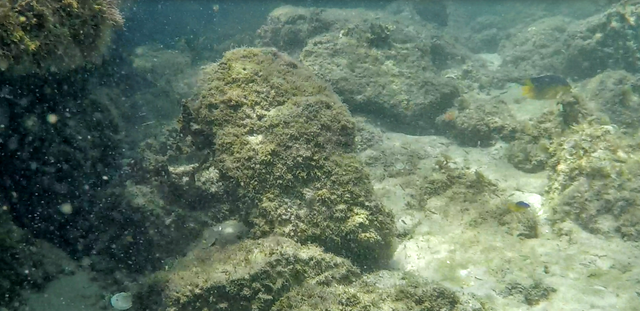 ---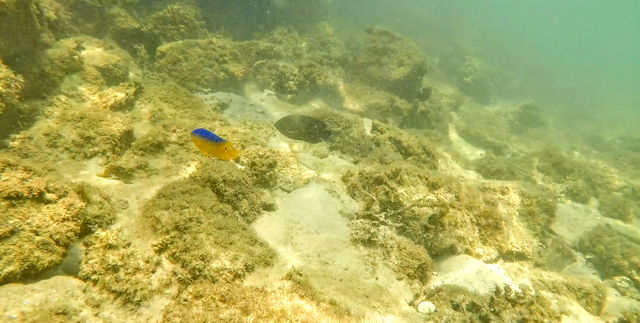 These two guys were the best buds.
---
Overall, the day was just as amazing as it looks in the photos. Snorkeling and diving is something my daughter and I have shared since she was very small and I cherish every chance we get to share it again. We discovered(a bit too late) that the waterproof housing for my cheap knock-off action camera was, in fact, not waterproof! lol So that camera is dead and I am hoping to salvage the footage from the card. My new go-pro hero 2018 performed like a champ and I can't wait to get it back out there and get some additional footage.
Originally posted on Steemit
ere are more ways to become a part of The Good Men Project community:
Request to join our private Facebook Group for Writers—it's like our virtual newsroom where you connect with editors and other writers about issues and ideas.
Click here to become a Premium Member of The Good Men Project Community. Have access to these benefits:
Get  access to an exclusive "Members Only" Group on Facebook
Join our Social Interest Groups—weekly calls about topics of interest in today's world
View the website with no ads
Get free access to classes, workshops, and exclusive events
Be invited to an exclusive weekly "Call with the Publisher" with other Premium Members
Commenting badge.
Are you stuck on what to write? Sign up for our Writing Prompts emails, you'll get ideas directly from our editors every Monday and Thursday. If you already have a final draft, then click below to send your post through our submission system.
If you are already working with an editor at GMP, please be sure to name that person. If you are not currently working with a GMP editor, one will be assigned to you.
◊♦◊
Are you a first-time contributor to The Good Men Project? Submit here:
◊♦◊
Have you contributed before and have a Submittable account? Use our Quick Submit link here:
◊♦◊
Do you have previously published work that you would like to syndicate on The Good Men Project? Click here:
Join our exclusive weekly "Call with the Publisher" — where community members are encouraged to discuss the issues of the week, get story ideas, meet other members and get known for their ideas? To get the call-in information, either join as a member or wait until you get a post published with us. Here are some examples of what we talk about on the calls.
Want to learn practical skills about how to be a better Writer, Editor or Platform Builder? Want to be a Rising Star in Media? Want to learn how to Create Social Change? We have classes in all of those areas.
While you're at it, get connected with our social media:
◊♦◊
However, you engage with The Good Men Project—you can help lead this conversation about the changing roles of men in the 21st century. Join us!
Do you want to talk about how to have richer, more mindful, and enduring relationships?
◊♦◊
We have pioneered the largest worldwide conversation about what it means to be a good man in the 21st century. Your support of our work is inspiring and invaluable.
Photos courtesy of the author.