Life of Dad teams up with the National Fatherhood Initiative and Honda to raise money and awareness for Congenital Heart Defects through Dads Doing Good campaign
If the videos seem like commercials it's because they are. But the Dads Doing Good campaign(#DadsDoingGood) is also a public service announcement for fathers proactively bettering their communities and their kids' lives. The partnership between Life of Dad, the National Fatherhood Initiative, and Honda is all about heart. That's something we'll always get behind.
In Tommy's words:
My daughter, Barbara, is three and a half, and she is one tough, funny, and at times demanding broad (Daddy…I NEED all of my toys in my bed before I can fall asleep…)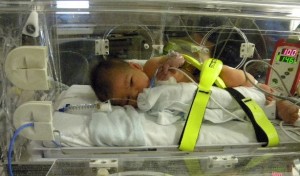 Barbara's medical condition started as (and still is) one of the biggest challenges in our lives.  In some ways, it has also become one of the biggest strengths.   My wife and I have now become incredibly passionate about raising money and awareness for congenital heart defects.
With an upcoming partnership with Honda approaching, my wife had the great idea of having dads giving back and "doing good" while using Honda Odyssey minivans.
Once we had these glorious minivans within grasp, I knew that we had to do something for CHDs.
Now that my daughter is old enough to understand things such as "donating money," I wanted her and her cousins to be a part of the experience of "doing good" for others.
We used two Honda Odysseys to create the greatest lemonade stand of all time.  We bought 100 red balloons and lollipops, and gave them and all of the lemonade away for free.  Donations were optional, and everything that was donated went to our favorite CHD cause.
Honda also donated $1 for every cup of lemonade that was drunk, so in the end we raised $255 for charity.  More importantly, we taught our kids about charity, donation, and helping others.
"Given the serious father-absence crisis in our nation today, it is critical that we share stories celebrating the good that dads do in communities across the country," said Vincent DiCaro, Vice President of Development and Communication at NFI. "Thanks to Honda, National Fatherhood Initiative and Life of Dad are able to do this in a 'big way' that highlights Honda's commitment to helping families and communities live better lives."
Thank you, Honda for this opportunity, and parents, please share this video with your kids, so they can learn a little bit about "growing up with heart."