Creo – Documentary from Moss Davis on Vimeo.
'I'm losing a little, but I'm using everything I've got,' says the 90-year-old artist Leonard Creo, for whom old age means working harder to achieve less than what he was used to doing before.
—
But all that effort is still an endeavor worthy of taking care and attention of oneself.  "If you can do puberty, you can do old age," Creo says with a sparkle in his eye.
Creo keeps his body active through speed walking six days a week.  He keeps his mind alert by sculpting and painting.  When he was reunited with his old WWII uniform that had been lost and stored away, he glowed with a youthful satisfaction and relished going back in time as a 21-year old, even if it was only briefly in his mind.  He paused, reflected, and widely smiled while remembering.
Born in New York City and now living in Britain, Creo's perspective on life and his art are driven by a desire to connect.  Yet he's also keenly aware of the limits of human communication.  His sharp observations on war and the near impossibility of communicating a soldier's experience to that of a civilian is reflective of the challenges we all face in understanding others.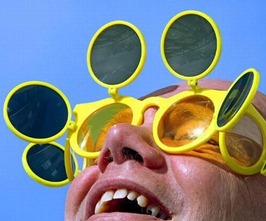 Ultimately, Mr. Creo sees the possibility of happiness as a pragmatic process, as something you want to do– and doing it regularly.  Moss Davis's film shows this brisk and compelling approach to life, one that is given to a happy, consistent, and applied course of action.
It's good to keep on the sunny side of life.
And it seems to be serving Mr. Creo just fine.
by Skippy Massey
This post originally appeared at the Humboldt Sentinel. Reprinted wit permission.