Lotsa photos below the cut. Slow connections beware.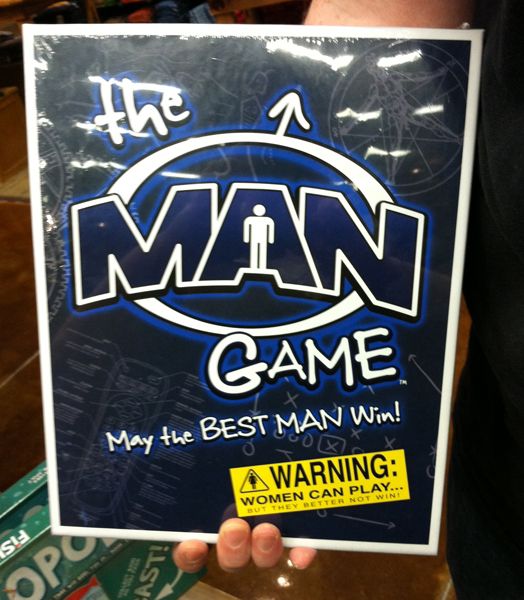 Stolen from Shakesville: The Man Game. "May the best man win!" "Warning: women can play, but they better not win!" Exciting speculation in the comments about what kinds of sexism will be evident in this game is appreciated.
The Man Card! For those of you who can't see images (those of you who can can skip the rest of this paragraph): the Man Card is like one of those frequent-customer reward cards where they punch ten holes in it and then you get ten dollars off, except instead of purchases you earn points for drinking whiskey, stopping purse snatchers, building a log cabin, surviving a rattlesnake bite, smoking a pipe, rescuing a kitten from a tree, earning a huge face scar, killing a twelve-point buck with a bow, growing an epic beard, carrying a buckskin knife, learning to weld, entering a lumberjack contest, hiking the Appalachian trail solo, rebuilding an engine, and being 1/10 as manly as Steve McQueen.
I really like the "ha ha only serious" aspect. "Look! We are so exaggerated! Men are actually supposed to be tough and violent and rescue people and do manual labor, but the fact that it's a card is hilarious!" Also, I find the deliberate historicity of it interesting: manly men do things like pipe-smoking that no one except Noah Brand has done for decades. I think it ties in to the "end of men" anxiety and anti-feminist backlash– in the past there were Real Men, but now we are all sissy boys.
Hat tip to Sociological Images for the next couple images.
"Boys can play out their favorite airplane adventure with the new Imaginext Sky Racers." Because, of course, all boys like airplanes, and no girls like them. I find the "boys like vehicles!" thing almost as pointlessly gendered as the "men hate vegetables!" thing. I mean, what?
…Or, you know, we could have boys AND girls like Spider-man AND Disney Princesses, because they're both objectively awesome.
Things boys like: space, possibly the military (?). Things boys hate: magic, mazes, palaces, the color pink.
Boys are trouble! The patriarchy has contempt for men: sure, "boys will be boys" offers a certain amount of freedom for boys to get in trouble that girls don't really have, but only because boys can't be expected to do better. Fucking sucks for everyone.
Awwwww. Because I refuse to leave you with nothing but sexist shit, here's a little boy playing with a kitchen set with a little girl.