It is said that the way to a man's heart is through his stomach. If you make it that far, then what may happen on occasion, if all follows the design of love and lust , it may end up in the bedroom too. On Valentine's Day particular attention is paid to these things, and while your man is out planning his special ways to let you know how appreciated you really are, why not take a cue from our friends across the pond for a new and exciting way through to your man's heart, stomach, and yes—even pants.
Following you will find a recipe for the infamous Cock, and Bull pie, courtesy of our friends at The Huffington Post UK. Online supermarket Ocado has teamed up with artisan ready-meal brand, Charlie Bigham, to create the "world's first lust-enhancing aphrodisiac pie", packed full of supposed "sexually stimulating ingredients".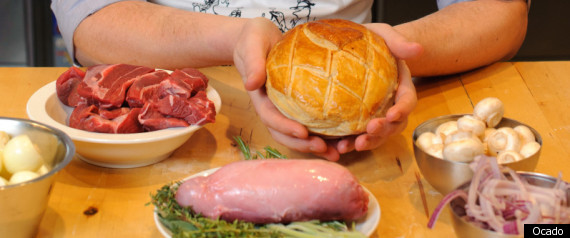 We can always trust our British friends to provide us with new and exciting (sic) ways to enjoy the finer fares of the world.
Read more and find out how to get your own specially made, and limited edition of the Cock and Bull Valentines Day Pie.