Alan Bishop's call to arms: "The gauntlet we call life is out there…waiting."
—-
As men, each day we pit ourselves against this gauntlet. The challenge of each day. Days filled with trials and tribulations as we attempt our life's quest. The quest to become our own hero.
A true hero who inspires others to follow, rally to his cry and gives them permission to face the fear of battle (whatever that battle may be). These men are a rarity. They have passed their own gauntlets time and time again. Their battles are well known; legends have been made of them.
The question is—can you be one of these heroes?
True heroes have sharpened their steel out in the world, past the known boundaries of the safe and warm. These heroes are not only men but also women and children who've sought out these unknown places not because they wanted to but because they had to. It's in their DNA. It's beyond fate, fear or reason for them.
These are the heroes we follow and these are the heroes who change the world.
"Of every one hundred men, ten shouldn't even be there (war), eighty are nothing but targets, nine are real fighters…We are lucky to have them…They make the battle. Ah, but the one, one of them is a Warrior…and he will bring the others back." – Hericletus
As we travel along this adventure of life, we're constantly passing through a series of trials and tribulations. These are often violent encounters filled with self-imposed limits, fearful thoughts or withdrawals just before we've achieved a victory. Each successful test furthers our abilities and advances our journey—or "sharpens our steel."
Tribulation: Grievous trouble; severe trial or suffering
Trials: The act of trying, testing, or putting to the proof
Think back along your adventure to this point; What trials and tribulations have you faced? How did you fare? Did you dull your blade or has it been sharpened? Are you still battling?
♦◊♦
On my own hero's journey I've been faced with many. At this point in my life I am proud to wear my battle scars.
"Out of suffering have emerged the strongest souls; the most massive characters are seared with scars." –
Khalil Gibran
I've faced many tests and although I've been wounded, I stand here confident and powerful knowing that my "steel has been sharpened" and I'm committed to keeping its edge honed fine. I do this because the tests are never done. 
The fact that I have engaged in battle and "run a gauntlet" before, doesn't mean that this battle will never again return. I've fought many the same foe time and time again…The difference however, is in the "sharpness of my steel".
♦◊♦
These are some of my battles: Are yours similar ones?
As a Father:
I have battled with my expectations of the moment vs. nurturing the development of my children. My wife gave me one of the best pieces of parenting advice ever. Her advice: in every instance with the boys, think about the interaction and ask yourself this question, "Is what I'm doing going to enhance their self-esteem or tear it down." This one lesson above all others has guided me in my trials as a father and has kept my edge sharp.
As an Athlete:
For some, athletics is a way of release, for others it's a community or social experience—-but for me, the trials and tribulations of being an athlete have always been about pushing past known limits and reaching into places inside that I never knew existed. I've been broken, I've been battered and yes I've been beaten. As a Crossfitter, I can tell you that with almost every WOD that I complete, I find my edge. I reach this edge and then have to decide: "Do I push past or do I retreat back into the into the known"?  Expedition Racing used to give me the same feeling but with CrossFit I can now find it in the comfort of my garage rather than having to claw and crawl through the jungles of the Amazon.
As a Husband:
I've known no bigger battle than in my trials as a husband. In my marriage I have found my biggest victories as well as my most humbling defeats. It's made me better though and I'm thankful for the woman who walks by my side, this brave and heroic princess standing beside my sometimes dark Knight.
In this adventure the gauntlet isn't something I've known before as I never really knew what a "Love relationship" was. I had no model or mentor. In this journey I've realized that I must embrace it while having the patience to allow it to be crafted. This isn't a "shiny bright thing" that I can only briefly be excited about. After 20 years I feel that my edge is finally sharpening. I'm still as excited today about sharing the rest of my life with her as I was on the first day we met.
As a Professional:
My battles as a professional have been many. As a serial entrepreneur I have lived and died by my own sword many different times. I've tried aligning forces with others, being part of a team and I've also worked for someone else. Each trial gave me the opportunity to test myself and to learn.
Sometimes the lessons have been hard, crippling hard—I mean kick you in the teeth hard. 
It's from those lessons that I think I've sharpened my steel the most. These trials have shown me that I can get up again and that I can meet the needs of those who depend on me. I also found out from these trials that time passes quickly and people move on. Professionals have busy lives filled with their own trials—mine aren't really that important to them.
♦◊♦
What can you learn from your battles?
"It is better to conquer yourself than to win a thousand battles. Then the victory is yours. It cannot be taken from you, not by angels or by demons, heaven or hell." – Buddha
As you move past your thresholds into the areas of the unknown you, as the hero, must call on your powers of intuition, instinct and faith in order to brave the path in front of you.
The villain inside loves the trials and tribulations and it will do everything in its power to not allow you to sharpen your steel.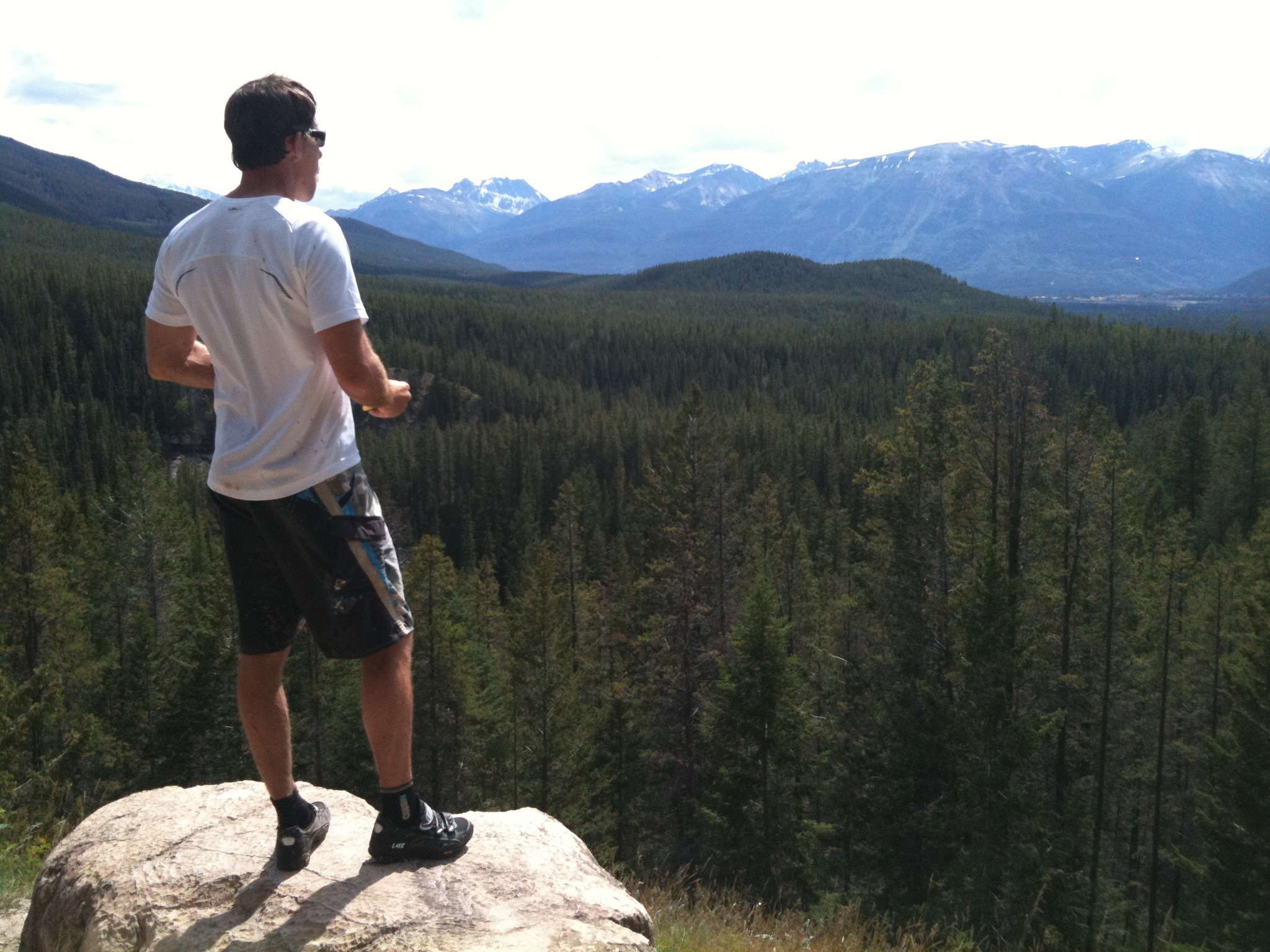 My Grandfather gave me one of my greatest lessons ever.
He was a dairy and market garden farmer who worked every single day of his life.
He had that ethic.
When I'd visit, he'd have me do chores. One of these chores was raking the Maple and Chestnut leaves off the front lawn. For years (literally for years), I would rake the leaves when my grandpa was having his afternoon nap. When he awoke he'd head out again for the barn.  There I'd stand, waiting for him beside a mountainous pile of leaves—proud as punch.
He would just walk by, never saying a word, never casting me a glance.

Finally, after years of waiting for some sort of recognition I got up the nerve to ask him "How'd I do Grandpa"?
He stopped on the path, gave me a stern glance and then walked off the path and onto the grass.  He appeared to search every inch of that lawn and every blade of grass caught his gaze until finally, he beckoned me over to him.  He pointed down to the lawn and said "You missed a piece here",  he then walked a few steps and pointed, "Here's another piece" and this went on for the 6 more pieces that had remained on the lawn.
It didn't matter to him that I had 3 massive piles of leaves neatly stacked up on the lawn. What was important to him were these words that he said to me "Alan, it's not what you get that counts—it's what you leave behind that people will see" and off he went back down to the barn without a glance back.
In that moment, and in that trial, I was crushed…and yet, to this day that message is one of the most important life lessons that I've even been blessed to receive.
I will forever be thankful to him for it. It sharpened my steel.
On your Heroes Journey you must acknowledge these trial and tribulations.
Let them sharpen you.
Let them hone you. Be Better
Let them teach you how to Be Your Own Hero.
Share below with others some of YOUR Battles.  Let's start becoming HEROES together.