If you're an NBA basketball fan counting down the days to the NBA re-launching its season from the Orlando Bubble at the end of the month, checking out The 5 Tournament this week might wet your whistle.
"The 5 Tournament Pro Basketball Invitational" is set to take place in Las Vegas from July 19-29 at the Orleans Hotel, and will be streaming on Pay-Per-View and also available on the FITE app.
The six teams competing in the bracket style tourney are full of former NBA players, and will include many familiar faces as well as superstars like Joe Johnson, Nate Robinson, Mike Bibby and Mario Chalmers. Teams include the Miami 5, Toronto 5, Chicago 5, Texas 5, New York 5 and Sacramento 5. Each team will also include a legendary star analyst, including Tim Hardaway (Miami), Alan Houston (NY), and Charles Oakley (NY).
NBA legend Tim Hardaway – creator of the Killer Crossover, the UTEP Two-Step, the engine that made the Golden State Warriors Run TMC go, and former leader of the Miami Heat, and father of current NBA and former Michigan star, Tim Hardaway, Jr. – sat down with GMP Sports Editor, Mike Kasdan, to talk about The 5 Tournament and what he's excited about.
In The 5 Tournament, Hardaway will be Miami's star analyst an will be commentating during the games. The star analysts will help to connect past with present and give some history to the team rivalries.
Hardaway mentioned that in launching The 5 Tournament, they learned a lot from the recently concluded 'The Basketball Tournament' (the TBT), in terms of running a tournament in a bubble safely during the COVID-19 epidemic:
It's a great situation, and guys want to play. Joe Johnson – who also played in the TBT – wants to play and be a part of this. He is a big part of basketball, along with guys like Nate Robinson and Mike Bibby and Mario Chalmers…and also players like Mike James, Will Bynum, and Eddie Curry.
And its also all about rivalries – Miami Heat vs. NY Knicks, NY Knicks vs. Chicago Bulls – these guys have played in those rivalries; its going to be a lot of fun and very entertaining.
The three-on-three format really differentiates The 5 from other tournaments and from the NBA, and it should give it a real playground or NBA Jam kind of feel.
These guys are in tremendous shape and take their health very seriously. It's impressive – I'm seeing six-packs and eight-packs. I'm amazed at it. They can certainly get up and down full court, but you want to maximize their energy and talent, and playing half-court in 8:30 quarters helps the game play and should highlight their talents. 
While Hardaway takes his own health seriously ("Health is wealth") and praised his fellow announcers fitness levels, he was very clear that the star analysts would not be coming off the bench:
Oh no no. (Smiling). We are not coming off the bench. We will be looking from the bench and commentating and talking about the game and the game play.
And it's going to be a sight to see, a lot of fun and different from what we've been seeing!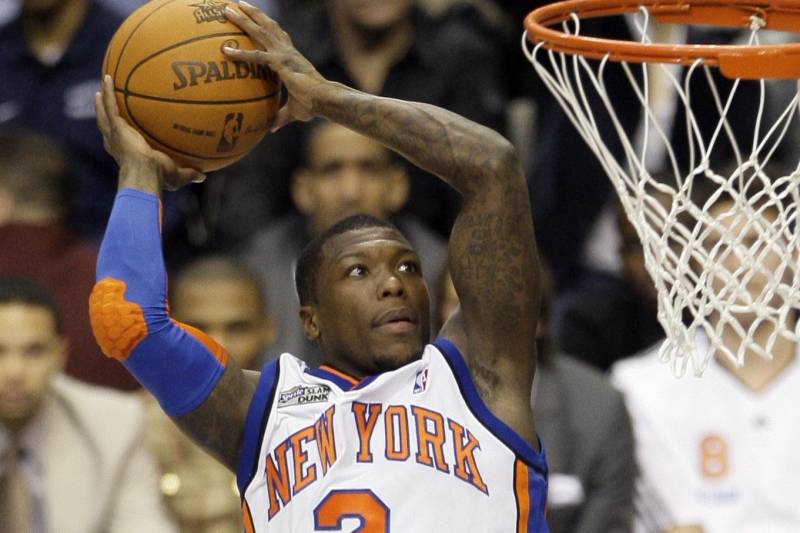 —
Photo Credit: The 5 Tournament (with permission), Nate Robinson (Tony Gutierrez/Associated Press)
For Information on purchasing the Pay-Per-View, see here.