Charlie Capen attempts to decipher his toddler's language and finds that such attempts hold little promise for success—or clarity.
When you are conducting hostage negotiations or talks on nuclear weapons facilities, it's very important to read between the lines. The subtext of heated mediations and dialogue is almost always more important than the overtures made by tyrant dictators or religious extremists. Or toddlers.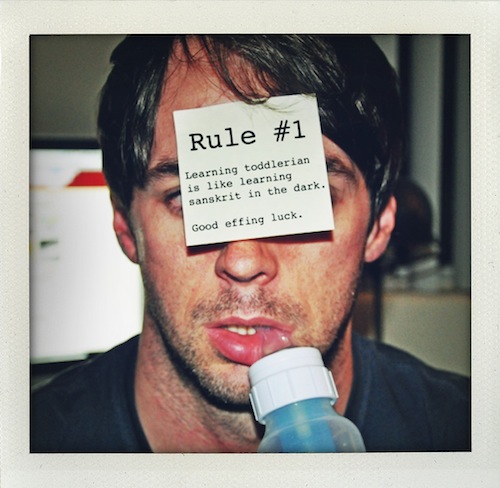 This weekend my son decided to binge drink on the "no" word. He nearly caused the collapse of civilization as we know it. Moreover, he decided that he was going to be Mariah Carey-precise about what he wanted and when. His normal food? Of course not. He just waved it away. His favorite toy(s), all bullsh*t devices for lesser babies. Add to that an intense desire to hit his head on everything.
Why the hell couldn't he have learned "yes" first?
Now, I recognize that we've only used the word "etiquette" twice in all our posts. But toddlers have none. For Andy, the guy with one full-fledged teen, one pre-teen and one toddler, this word might appear even less in conversation than in my household. The word "no" was even cute at one point. Over time, it quickly deteriorated into a weapon my son used against me. He has machine-gunned the word at me. Screamed it. Quietly, solemnly whispered it. He has used it as a battering ram against my will. Many of us have asked:
So, what does it mean when my son says NO to everything?
Does he even understand what I'm saying?
If a tree screams "no" in the woods, does anyone hear it?

The answer is, categorically: WHO KNOWS.
I respectfully tender the following video evidence (1 of 2):
EXHIBIT A — CASE #530TCq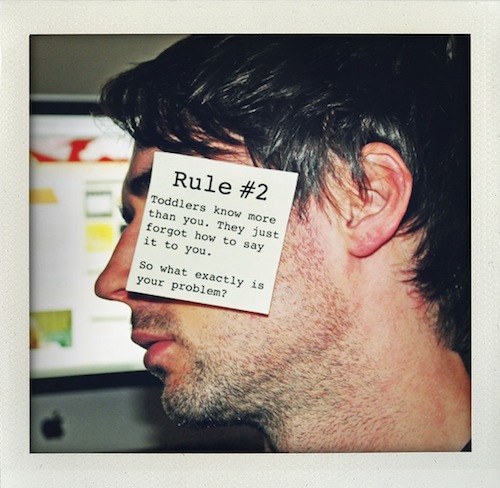 Our jobs as parents, quite in addition to the changing, feeding, protecting, bathing, burping, cleaning, disciplining, ordering, consoling and all else, is deciphering the intimate, unique language of our children. We are as qualified as United Nations translators but not paid nearly as much. For example, I know that "beeboh" means "basketball" or that by "melmo" my son does not mean the planet that ALF came from; he means "Elmo." The list goes on: "nernie," "c*ck" (meaning a timepiece), "staww," "baw," "buhrr," "babbuu," "guysk"—it never ends. But the crazy thing is I know what all these words mean … most of the time.
But, it seems none are immune to the "N word." If by some marvel or act of the Almighty Something you get a child who says "yes" or "please" or "I love you" before the word "no," please call me and/or email me so I can get all scientific and religious authorities together. We have a miracle on our hands.
EXHIBIT B — CASE #530TCq
On the other hand, he's giving me hugs again these days and saying, "bye bye daddy!"
What was I saying? I forget.
Originally appeared at HowToBeADad.com.