Every time  his son gets hurt, Charlie Capen feels it in his balls. Is he the only one?
This post originally appeared at How To Be A Dad.
When babies first come out of the womb, they are physically attached to their mom. But could it be possible that perhaps, somehow, they are also attached to the father's testes? Stay with me… if you can.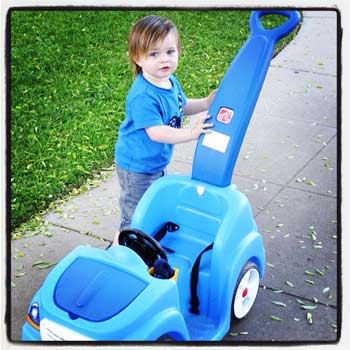 ♦◊♦
For my next trick, I will light this car on fire & give you a heart attack doing backflips off of it.
As a younger man, I skateboarded all over the San Francisco Bay Area. We used to stay out WAY too late and occasionally got into some great trouble. We were always trying to go for bigger air or nail a more technical trick that seemed ever elusive. I still have a sad face emoticon tattooed on my soul from not figuring out a couple of those skateboard moves. 

Another major part of skateboarding culture was our obsession with watching skateboarding videos, when it was too cold or too rainy or too late to do anything productive. A notable sequence in the videos was always a section where people got hurt. I'm sure that this was the genus of "Jackass" and all those hordes of human failures on TV. The accidents were invariably pretty brutal and brought on physical sensations when you watched them. Imagine a guy trying to navigate a skateboard down the metal railing of a staircase and ending up landing it with their sack…Ouch. Broken arms. Road rash. It was a blast, despite those momentary physical reactions we had.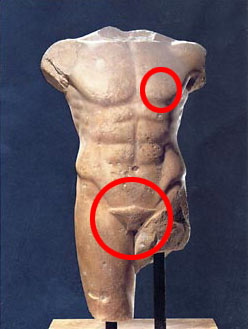 ♦◊♦
The photo on the left shows areas affected by your child's activities. Notice the lack of genitals. This statue was probably built in response to what I'm talking about.
Fast forward to present day: You have a child and the guy/gal is a little daredevil. But every time he/she almost falls or actually DOES FALL, you get that same physical reaction. For a father, it seems to be in your balls.
A year and some ago (eat your heart out Lincoln), when Finn was learning to walk, my wife and I were watching him try to take a few steps. He lost his footing and fell headfirst. At the last moment my hand caught his wrist and stopped him from certain death. I had that aching, kicked-in-the-balls feeling. It was like a "scrotal spidey-sense." I looked over at Avara and she was holding her stomach. "Are you okay?" I asked. She replied that whenever she sees Finn almost hurt himself or actually sustain an injury, she gets an aching, painful feeling in her uterus…
Now, every time Finn almost/does hurt himself, we both deal with metaphysical umbilical cords, still connected to our son. What the hell is that?? Are we the only parents who have this CRAZY phenomenon?
Please don't tell me we're the only ones…
—
photos: (top) eron_iler / flickr (insets) howtobeadad.com