WTF Products — The dude version.

Editor's note: We had a very serious discussion about this very un-serious piece when it landed on our virtual desks. Will our readers think that we're endorsing these products? Will they see the satire or be offended? Will the siren call of Mad Magazine-style humor outweigh the risk of somebody thinking we really stuff our crotches?
Inevitably we decided that if we saw humor in these unbelievably real products that you would, too. Enjoy.
♦◊♦
Has the women's movement frightened 21st century men? Back when we called feminists "suffragettes," men didn't need products for impotence or farts. They just blamed both on their wives.
But in the same way that WTF Products for Women documents post-feminism fears (camel toe, breast sweat), these WTF Products for Men reveal an uncomfortable amount about our fears and insecurities.
The legacy of the inflatable sex doll is a sad one: the tire-like smell, the shame, the pie-eyed rictus, and the signal that the purchaser has thrown in the towel on happiness (and, literally and figuratively, on "life"). On the positive side, sex dolls don't objectify women; they objectify objects. What do we make of the Inflatable Wife, a sex doll without the sex, with virtues like "Totally Silent" and "Won't Crash Your Car"? Inexplicably, Inflatable Wife seems to be targeting post-blitz, working-class Londoners, with its references to "traipsing round shops" and "your wage packet." If you do get one of these (such items are always touted as "great bachelor party gifts" or "great gag gifts"), you can take Inflatable Wife on the road and use the carpool lane. Just don't shove Inflatable Wife in the car naked; that's disrespectful.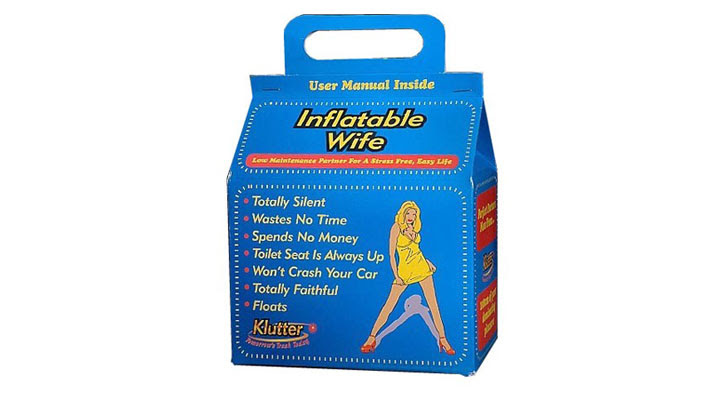 Shreddies ($39.51–$69.15) at Shreddies
Now that humankind has stood on the moon, mapped the human genome and revived the Twinkie, our greatest minds have tackled more difficult—and sometimes more obscure—problems. Shreddies Ltd. has claimed victory over fart stink. Its flatulence-filtering underwear features "a 'Zorflex' activated carbon back panel that absorbs all flatulence odours." (The Brits? Again? When did America give up its lead in manovations?) Don't get your boxers in a bunch over whether this expands your carbon footprint. If Shreddies work, and you never again smell like a bus station bathroom, the world can take the hit.
Initially marketed to the elderly, GoPilot found a wider demographic among the lazy. The pictures and customer reviews present this as a time-saver on long car trips. (One happy user also recommended it for extended video game sessions.) Advantage: Your car is nicer than a rest-stop urinal. Disadvantage: Your vehicle isn't much nicer after you stockpile urine under the steering wheel, and the aroma wafts up from the tube you just pulled from your pants. Advantage: GoPilot saves you time. Disadvantage: Unless you put one end of the tube in your pants while still in your driveway, engaging the GoPilot could be more dangerous than texting while driving. Advantage: "It comes in a discreet, gray, mesh bag which doubles as a privacy shield." Disadvantage: If you express a desire to pee in your car with other passengers, you'll probably get all the privacy you want anyway—no discreet gray mesh bag necessary. Also, GoPilot comes in a woman's version: "The Female GoPilot Package" ($34.95).
When you're fighting for the drippings left behind by Coke and Pepsi, you can't be subtle in your advertising. Dr Pepper confronted the male stigma associated with diet drinks by introducing Dr Pepper TEN in October 2011. (Initial slogan: "It's not for women.") Compared to the non-diet soda's 250 calories, 66 grams of carbs and 64 grams of sugar, TEN has just 20 calories, 5 grams of carbs and 4 grams of sugar per 20-ounce bottle. Men already have bigger guts, higher incidence of heart disease and a shorter lifespan. Getting our own drink in addition to all that seems like overreaching.
The divide between men and women in Great Britain isn't just limited to the imagination of some marketer of a cheesy latex doll. British blokes also have their own chocolate. Presumably, its net weight of 2.38 ounces makes it bigger than competing chocolate bars, and no one has gone broke on either side of the Atlantic pandering to male gluttony. (Here in America, though, that Yorkie bar looks about as imposing as a MINI Cooper. Hershey's has combined Yankee ingenuity and fat-assedness to create a 5-pound chocolate bar that makes the Yorkie look like, well, a Yorkie.)
Libido-Max ($28.49) at Walgreens
When you Google "male enhancement products" and click the link to Walgreens, it initially looks like a mistake. The first several items are old-school men's hair care products like Vitalis and Brylcreem. Just when I expected to see a pack of Lucky Strike cigarettes and a mint called Sen-Sen, Libido-Max appeared as the top seller among over-the-counter sex pills. The folks at Applied Nutrition must be on to something, though. They had enough confidence in their product to offer it in a "soft liquid gel," a trio of words you would generally avoid associating with this item. The packaging is clinical and boring, but that's better than the goofy guy on the box of Enzyte ($9.94 at Amazon). "Everybody wins."
Clearly, the makers of this product are in on the joke. Their slogan is, "This package is too big for this package." The good folks at ShopInPrivate.com (a superstore for this kind of item) claim that "those penis enhancer pills other websites sell aren't going to work, so why not just start faking it." Just make sure whomever you are trying to impress never gets to see the merchandise.
If the word "shit" on the label doesn't encourage you to slather this stuff on your hands, the Smokey Bear on the lid should seal the deal. After all, bears are known for their soft skin, especially if they fight forest fires. ("Only you can prevent dry skin.") Hand Shit actually contains beeswax and vitamin E and is feces-free.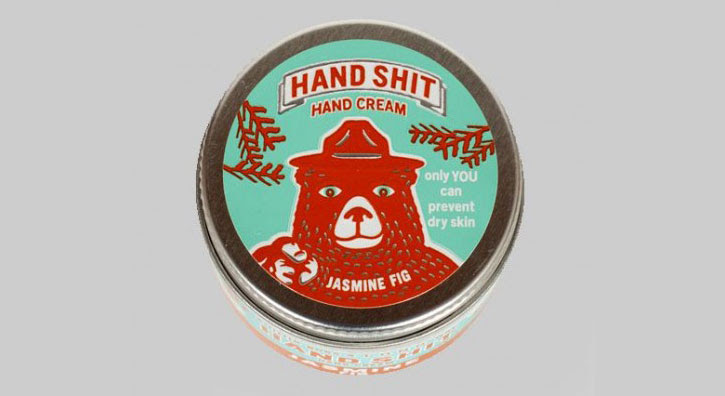 This badass ashtray, with its textured bronze finish, is heavy and looks old. It can also be a desk accessory for holding keys or whatever else badasses keep in their pockets instead of change. ("Change," whether it means coins or making things different, is for women.) Nothing says "man" like extinguishing a cigar in the palm of your hand. And unless you are G. Gordon Liddy, The Three Stooges or Herman Munster, this ashtray is as close as you'll get.
—post courtesy of  The Real Deal by RetailMeNot