This is one of a series of blogs promoting the Steamfunk! anthology by MV Media, which features my short story "The Sharp Knife of a Short Life." This blog was supposed to publish on March 10th alongside ones from other writers in the anthology. Woops. Here goes …
The following is an excerpt from the short story, "The Sharp Knife of A Short Life" by Top Cow Talent Hunt winner Hannibal Tabu as published in the anthology Steamfunk!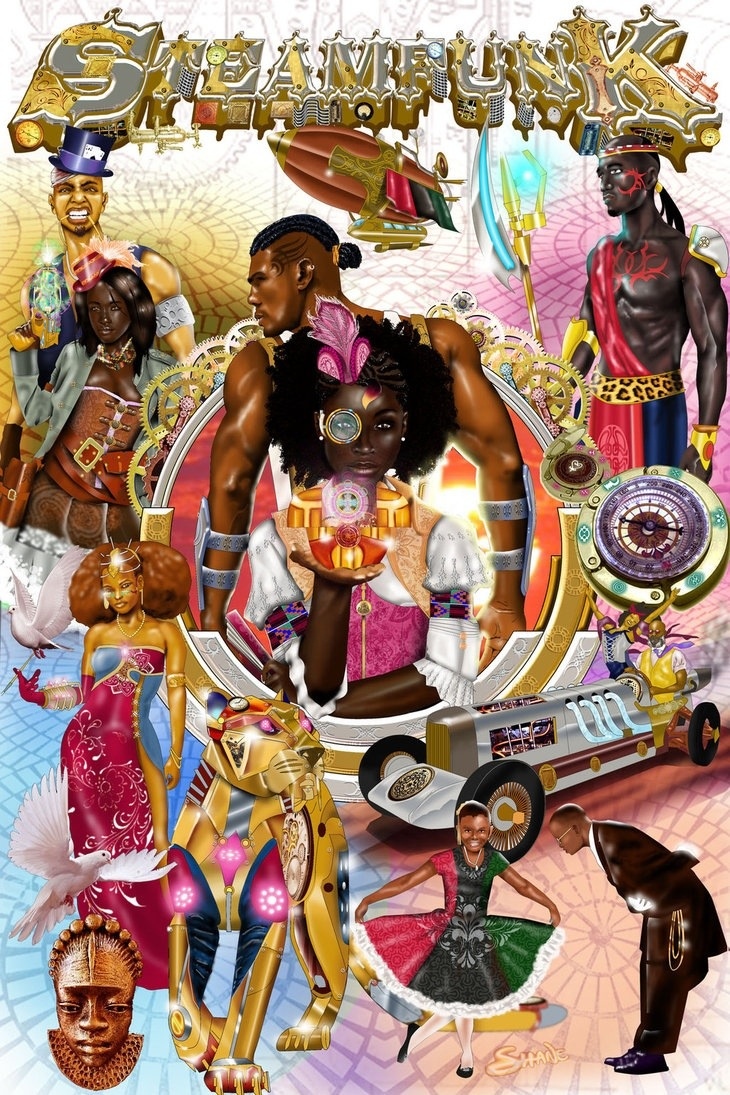 The dark sky was just beginning to brighten as they began, down by the chilly riverbank. A light frosting of snow, the first of the season, descended upon the funeral attendees like it was filmed in slow motion, a crowd of about fifty stood silently as the glass casket was brought forth and set on the platform.
Inside the casket, as pretty as if it was her first day of school, was Jenny Taylor. Her long blonde hair was a cascade of unruly, curly strands, arranged with purple and white talicynth flowers on her right temple, the same as the bunch clasped in her delicate hands, a green-gold ring on one finger. A white satin gown, simple and strapless, laid across her whisper-thin form so serenely it was as if she was merely napping, moments away from sitting up and setting daylight on fire with that smile of hers. A bed of multicolored roses held her tiny frame in place.
Hiram Gutierrez ran towards her still body and fell down, his hands grasping the shiny brass bar that encircled her clear oval resting place. Racked with sobs, his brother Sam, an oak of a man who looked so sad in his rich purple collarless suit, put a tan leather duster over Hiram's slight shoulders and helped him back to where everyone was standing.
I shouldn't be here, thought Clara Perry, standing next to the spot where Sam returned. Unprepared with clothes in such a shade of purple as most of the mourners, she wore her dark brown thigh-length duster with all its buttons closed and shined, a borrowed ankle-length black skirt beneath, her spherical Afro pressed into a black top hat. This poor child would be alive if I'd have had the common decency to die.
Abernathy McCall ascended to the makeshift podium, a barrel of a man with long dreadlocks, full dark cheeks, wearing a shiny brass monocle, a dark purple top hat and a matching purple tunic with a golden sash that illustrated his role as a man of scriptures. Odd, given the sort of stuff he gets into, Clara thought to herself, but I barely get half of what these people are doing.
"Family, I stand before you weighed down with deep and profound melancholy," Abernathy began, "much as this hallowed glass chamber soon shall be weighed down with the river itself. In accordance with tradition, handed down from the days of Muhsinah, we gather at sunrise to bid farewell to our beloved daughter Jenny Taylor, to celebrate her, and release our sadness as we release her empty form to the dusky bosom of Iya'a."
"We thank the Mother for her love," the crowd said in unison, as Clara struggled to look normal. She kept glancing over at Sam, not just because of the impossible-to-suppress attraction she felt for him, but also trying to fit in.
Abernathy continued, "Will our daughter find Avshalom, off in the unknowable night of the universe, finding new horizons? Will we meet her, somewhere out there, dancing along the light of day?"
"We thank the Father for the spark of life," the crowd intoned.
"Muhsinah tells us yes," Abernathy boomed, getting warmed up now and shaking the snow off the brim of his hat with his emphasis, "The Surrender insists that we will all get our chance to rejoin that holy family in the embrace of divine love! Muhsinah taught that we live in a world of constant change, one where we must be as fluid as this river behind me, adapting to whatever obstacles or challenges may stand in our path, even the loss of one so dear, so young, so loved …"
"We thank the Surrender for showing us the way," the crowd responded.
Abernathy gripped the wooden podium with both hands, as if he was struggling with something. "Dearly beloved, I'm here to tell you … we can't know the pain of Tasha Taylor today, losing her only baby girl, this bright star in our dim sky. We can't step into the shoes of Hiram Gutierrez there, on the brink of forever; so harshly reminded of the long, long fall just a little past that precipice. We can't even know what it's like for Jenny's teachers, her friends, her relatives.
"What we can know is what the scripture says," Abernathy paused to pull out a worn leather bound book, holding his head over the thin paper pages to keep the snow from falling on them. "In the book of Judith, chapter fifteen, verse seven hundred and nine, it says, 'In your day you shall find your head bowed, your eyes filled with sting and water. In your time, you shall know the weight of absence. In your life you will receive the blessings of the gods, and you will be healed in due time.'
"These words are cold comfort, I know," Abernathy said, plopping the book closed, sliding it into a satchel on the podium and then removing his monocle, "colder than this very morning, but as sure as the light breaks over that horizon, we stand at the beginning of a new day, one day closer to being all right again, one day nearer to seeing Jenny again. She's waiting for us to take those steps, to keep going, to find her on the edge of the break of day. Here we bid her farewell, and here we shall meet her again."
"Ash'a'men," the crowd intoned solemnly. That's weird, Clara noted, but remembered that her "mission" left her little time for researching anthropological oddities.
Abernathy quietly said, "We now observe a moment of silent reflection, where we will each lay our thoughts and prayers on this cask, weighing it down as surely as the cold, cold waters will when we set our daughter free."
Almost every head dropped in unison, and Clara grimaced as she hastened to follow suit. After a moment of snow falling almost silently and the roar of the river, Abernathy tapped the podium four times in rapid succession with some kind of conductor's baton that emerged from apparently nowhere and the crowd leapt into song, shocking the heck out of Clara, who tried quickly to play along …
"What could I do
without you?
Who would I be
without your name?
Where would I go
you shine through,
No matter what
I'll feel the same

When will I once
again find you?
Who can I ask?
who knows you well?
When will I see
divine you?
Without you I
have lost and fell …"
As the mourners repeated this refrain, Hiram and Jenny's mother Tasha stepped forward and sang … well, mostly. They wailed at each other, in key and with gusto, holding one another and bawling, but singing all the same, wordless runs and trills, a lament and a plea. As they did, Abernathy reached for something in the podium and Jenny's transparent trappings slowly descended into the water. The lower two thirds, separated from Jenny by roses and glass, filled with water, She was taken into the river's flow as she sank, gone forever.
The assembled observers held the final note of the first refrain as Abernathy held his baton aloft, Hiram and Tasha already sitting on the ground, hugging and crying, unable to sing anymore. Abernathy swung the baton downwards and the singing stopped, and everyone started to mill around, some looking where the casket had descended beneath the water, some walking away, some going to comfort Hiram and Tasha.
Clara chose this time to make her way up the riverbank, trying to get back to her mechani-bike and make some sense of what she'd seen. She made it about twenty feet before she heard his voice.
"Clara," he called, and she knew it was Sam, knew that rich timber from her dreams, from the many nights she'd wished she could hear him calling it right next to her in bed.
She turned slowly and regarded him, his pant legs splashed by river water, a single white talicynth bud attached to the right side of his jacket.
"It was a beautiful service …" she began.
"You've never been to a funeral before," he said. "You had no idea what to do, or when. To not even own any purple clothes … you're not just from somewhere else, but to not know the basics of a funeral under the trinity … you have to be from somewhere very far away …"
If the stupid star charts would line up, I could figure out exactly how far, she thought absently. "It's not like that," she protested, "I just …"
"Clara, I don't care about any of that," Sam interrupted, drawing closer. "Hiram doesn't care either, because you were the second most important thing in Jenny's life. None of us care. We accept you … I accept you, whoever you are." Finally in front of her, he took her hands. "Whatever you're running from, you're safe here."
Clara looked into his impossibly deep brown eyes and wished everything in her life was different. She shook her head, and remembered the body crushed underneath the cryogenic chamber she emerged from in a desert seventy miles from here and remembered, he's not really human …
"Are any of us safe, Sam?" she asked, pulling her hands back. "Doesn't Muhsinah teach that the only constant is change, that we must adapt our behaviors while never abandoning our true selves?" She started moving for her bike.
The right corner of his mouth turned up in a smirk that made Clara's knees buckle as he followed. "Something like that," he admitted, "but she also said 'we are stronger together than we are apart.'"
Clara nodded, getting on the mechani-bike, a ramshackle collection of metal and smoke and hope itself. "I'll have to study my scriptures more, then," she said, cranking the engine with a kick. Yelling over the engine's roar, she pulled huge brass goggles on and said, "Please give your brother my condolences again!"
Without giving him a chance to reply, Clara twisted the throttle and the huge forty inch tires kicked gravel behind her as she took off. She reached up and made sure the pins were holding her hat in place as tears slipped through an opening between the goggles bright brass and her own dark skin.
The Steamfunk! anthology is available now.
[Source: The State of Black Science Fiction]