Alan Bishop, with strategies to stop a bad moment from turning into a bad day.
—-
Bad days. We all have them. They're inevitable. What isn't inevitable though is your ability to turn a bad day into simply, a bad moment. Who says you can't have a bad moment once in a while?
The key is in not letting one bad moment ruin the rest of your day. Think about the mess you could allow yourself to get into if you let all the negative thoughts, emotions and actions of these moments drive your next day, week, month year etc. Yikes.
Cut yourself some slack. Learn to recognize the bad moment signs and react appropriately.
«♦»
Here are 7 ways to stop a bad moment from turning into a bad day.
1.) Allow yourself a bad moment or two
Don't take it so seriously. We're supposed to make mistakes. We're supposed to fail once in a while. That's how we learn. Instead of beating ourselves up for having a moment of weakness or a momentary lapse of reason try embracing the mistake. Stop concentrating on the weakness, let go of your ego and enjoy the new learning. What isn't ok is quitting and letting one bad moment turn into a bad day a bad week or a bad month. That quitter inside of you will continue to gain power if you let it.
2.) Change gears
Usually moving down a certain path causes us to experience a bad moment. Changing gears or changing your train of thought might just give you the inspiration you need to stop derailing yourself and get back to being productive. A simple shift of your focused intent might be all you need to break the cycle and move from bad to brilliant.
3.) Move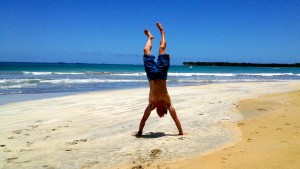 Get up. Get out. Get moving.
I'm not saying that you have to get in your 1/2 workout of the day but I am suggesting you stimulate your adrenal system by getting up off your chair, getting out of the "bad environment" and get your body moving.
It can be as simple as walking around the block, breathing in the fresh air and changing the scenery. This small act alone can save your entire day.
4.) Eat
Chances are you're not fueling your body as well as you should be. It might have been that 4th cup of coffee or the Super Sized afternoon lunch but chances are if you're not putting in the right "fuel" in your body you're going to bonk (click this link for my epic BONK story).
We all hit the wall at some point during the day but those who eat to maintain their edge are the ones who will hit the wall and bounce back.
I've been on the other end of that hit. I used to bash my body against that wall and it wasn't fun. Over time and while practicing my "The 365 Effects" I've learned how to "Fuel" my body. I now know what puts me in the performance zone and the "oh oh shit, I might bonk zone".
5.)  Sunshine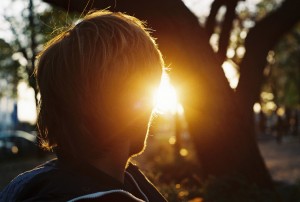 It's been proven and cited by many different medical professionals that 5 or 10 minutes a day of casual exposure to the sun is good for you. Much attention has been paid to the benefits of vitamin D, which is manufactured when the sun's UV-B rays hit the skin and which protects against cancer, bone brittleness, heart disease, and a host of other ills.
But there are other payoffs to a small daily dose of sunlight, including: A better sleep, a happier outlook, lessening of Alzheimer's symptoms as well as protection from auto-immune diseases. Some psychiatrists recommend that depressed individuals go outside in the sun for at least 30 minutes a day.
If that bad moment is looking like it's going to multiply, go visit the great outdoors and soak up some of those amazing sun rays. Let them kiss your skin and invigorate you.
6.) Make a list
Accomplishment feels good. At any level. When we're able to "tick the box" of success we know we're getting things done. Sometimes our days are filled with one task after another seemingly meaningless task but we barely have time to acknowledge our success in these accomplishments.
A simple list at the start of the day can take you right out of a bad moment into success mode.
Give this a try for the next 15 days.
Start off your day by writing out a short list (5 to 10 items). Make EVERYTHING on the list achievable
during your normal course and routine of the day. Make the list SIMPLE! Over the next 15 days have fun checking the boxes. Get into the habit of acknowledging your daily success. If you feel a bad moment coming on or have to get over one take out your list check a box. Revel in your ability to get stuff done.
7.) Laugh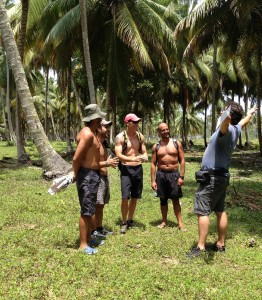 Laughter is despair's worst enemy. Despair can't help but leave the room when you're laughing. Laughter is infectious.
It's always good to know who you can turn to for those laughter inspiring moments. My wife Kathy is my go-to person for this. Either I'm doing something to make her laugh and in turn I get the deep belly laugh or she just brings it out of me.
Find this person in your life. Find MANY. Chances are if you're laughing others will too and voila, bad day's will be gone.
I make it a goal to have a big, deep, belly laugh on a daily basis.
«♦»
Think about how you can change and react appropriately in the way you deal with your bad days.
I love this quote:
"The only consequences which are permanent and leave no regrets are our conquests over ourselves". — Napoleon Bonaparte
We have to be able to commit to ourselves and be willing to tackle our own issues before we can conquer the world.  We're not perfect.
Start small and work up to it…Don't try and conquer the world until you have taken care of the things in your own back yard.
«♦»
As always, I welcome any comments and thoughts.
—
Photo Credit by Danka Peter